Maestro to the pit
When the call rings out behind the curtains at an international opera house, the conductor steps up to the stand and cues the musicians. In the central control system of an automotive production system, the zenon software platform can take on this role of conductor.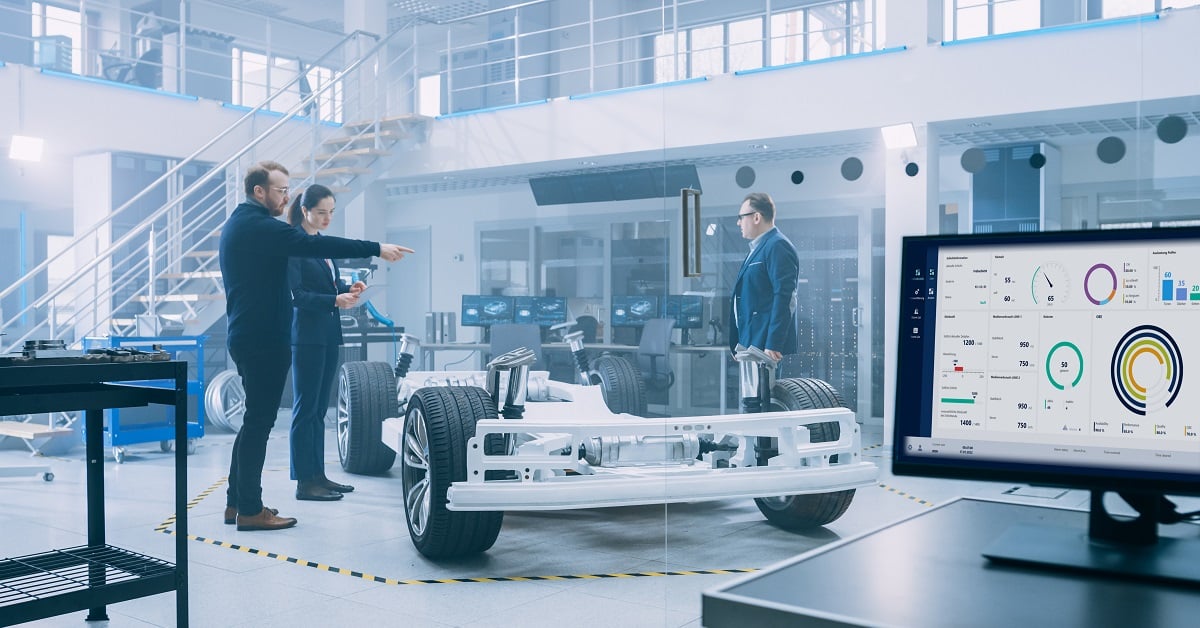 Opera and automotive manufacturing have a surprising amount in common! Everything has to be carefully coordinated and designed. Just as the instrument groups, choir and soloists come in at the right moment, cued by a
signal from the conductor, every production step must be carefully timed and guided.
A wide variety of instruments are found in an orchestra. Just as there are different instruments and technologies that vary in methodology, production resources or the degree of automation in vehicle production and in the manufacture of vehicle components.
The configurable, flexible software platform zenon can act as a conductor and interdisciplinary bridge between domains and technologies, such as car body construction, surfaces, assembly, components, building automation, energy and utility supply. On the one hand, zenon can cover basic functions across technologies and, on the other, the platform can integrate technology-specific requirements. This creates synergies when engineering the solution and in operation.

Protecting your investment with a system-independent solution
Investing in an end-to-end system is a decision with lasting impact. Future security is therefore an important criterion when choosing a system. zenon has taken on this challenge more than 300 direct drivers for communication between the central control system (CCS) and the PLC level allow the controller to be changed easily by simply replacing the driver, without having to reconnect zenon variables.

Thanks to zenon's hardware independence, a wide selection of industrial panels, IPCs, PCs and mobile devices are available.

The interfaces for high-level languages, add-ins, controls and the soft PLC zenon Logic ensure that zenon is very flexible for individual extensions.

Plus, the user interface of zenon Engineering Studio enables simple administration after a short training period. Programming skills are not required.

In automotive manufacturing, zenon has proven itself over 20 years under a wide range of conditions. When continuously developing zenon, we focus on requests and requirements based on practices in industry in interdisciplinary applications.
Synergies from an interdisciplinary application
The cross-technology software platform zenon can provide a range of synergies. With comprehensive standardization of software components and interfaces, zenon ensures important production data is transparent. One example is higher-level production control with zenon, which makes the best possible use of the available systems and transport routes. The energy requirements for production can also be taken into account. Configurable reports provide you with the information you need to make further improvements.
The interdisciplinary approach to the modularization of software adds significantly to time and cost savings. Process experts can define the modules, which shortens engineering and setup times. During production operations, these standard modules ensure the system runs smoothly and, thanks to standardized functions, improve maintenance and troubleshooting in case of a problem. When changing or expanding a module, only that capsule's functions have to be altered.

Flexibility with building automation
The requirements for building an automation control system are largely equivalent to those of a central system that monitors functions in production. For building automation to enable production halls, storage areas and offices to be flexibly occupied and operated efficiently, it requires a control system with a large number of interfaces to a wide variety of controls and controllers. Using such a system, problems in the process can be quickly identified and eliminated and requirements for access protection and personal safety can be met.

The control technology should monitor and manage power to ensure production remains stable. It should integrate the relevant data from the feed-in (including onsite producers, such as emergency power compressors or combined heat and power units) to sub-distribution and consumers. Using the corresponding stored algorithms, this results in an intelligent energy management system that allows as much energy as possible to be obtained from the energy supplier at the lowest possible contractually fixed price.

Importantly, the potential for savings helps to prevent expensive peak loads, which can be reduced through targeted interventions. Either the load is reduced for switchable consumers, or energy is fed in from on-site generation or is supplied from reserves. For this reason, it is necessary to accurately forecast the average power requirement for a measurement period. This can help you to identify issues in a timely manner and take steps to control any impending spikes or overage fees and remain within the specified reference power limit.
Certified it security with zenon
The zenon software platform provides comprehensive protection against unwanted data loss and unauthorized access. With the integrated security options, zenon can be easily integrated in existing security concepts.
TÜV Süd, the German Association for Technical Inspection, has certified COPA-DATA for its "Security by Design" approach in developing products that comply with IEC 62443-4-1. The IEC 62443 international series of standards defines the security measures for industrial automation systems. Part 4-1 of the standard specifies the requirements for the manufacturer's development process.
zenon is also certified in accordance with the IEC 61850 international standard, which governs the communication between various components in automated electricity and transformer stations. The current test bed for Edition 2 checks new features and add-ons against this standard.
Benefits with all technologies
The interdisciplinary use of zenon can further promote production capacities. Work orders can be moved flexibly between equipment or production sites. The synchronized production flow is combined with the concept of flexible workstations.
Flexible building automation with integrated energy data processing supports business operations across the properties at the production sites. zenon thus provides a stable platform to meet a range of needs – thanks to its extensive functionality and simple and secure integration with new or existing systems.